ATLAS COPCO hydraulic post drivers can be used on all types of square or round profile up to approximately 150 mm and small/lightweight sheet piles.
They require a hydraulic feed (provided by a tractor or power unit) with a flow rate of between 20 and 40 l/mn at a pressure of 80 to 125 bar, depending on model. Oil dividers are available to adapt your hydraulic supply to work with the post driver. 20 to 70 kg range available (with guide).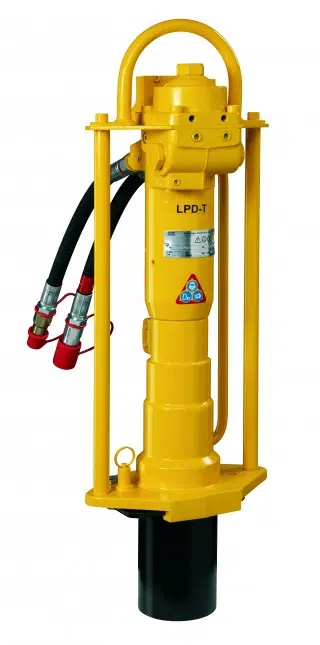 Used for driving in road barrier tubes, profiles, signposts, fences and a wide range of anchors and poles. The post drivers provide stable, powerful, high speed driving for a variety of post sizes. When operated with an optional hose-mounted remotely-controlled valve, the drivers can be run with both open- or closed-center systems.
 The LPD-T is supplied with a 0.5 meter hose with quick connector and is equipped with a trigger lever which the operator uses directly on the post driver.
 The LPD-RV is supplied with a 2 meter hose and is equipped with a remote valve, so that the operator can operate the post driver even when positioned on very tall posts.
 These machines can handle a high back pressure on the return line making them suitable to use with any hydraulic outlet, including those on skid-steer loaders which typically have high back pressures, or when extremely long hoses are needed.
Post drivers
LPD-LD-T

LPD-T

LPD-RV

LPD-HD-T

LPD-HD-RV

Hydraulic system
Open center
Open center
Open or closed center
Open center
Open or closed center
Weight including hoses
kg
17.5
32
33
39
40
Operating weight with 54 mm square adapter
kg
/
34
35
45
46
Maximum operating pressure
bar
80-100
105-140
105-140
105-125
105-125
Oil flow
l/min.
20
20-30
20-30
28-40
28-40
Impact rate @ 30 l/min
blows/min.
2300
1680
1680
1320
1320
EHTMA class
C
C/D
C/D
D/E
D/E
Reference
1801 3940 06
1801 4040 02
1801 4050 02
1801 4140 00
1801 4150 00